How to win a race at the Worlds : Get the inside information from Judith Massey and Sophie Mackley
Our 'campaign' started in a similar way to how it finished, with a few glasses in the bar at Hayling Island Sailing Club! We knew each other from sailing Merlin Rockets and had previously had a fun day racing together in one, which seemed a good enough basis to embark on our Tasar adventure.
We were very fortunate to have some fast Tasar training partners at HISC and over the build-up we took to the water with them as much as we could, soaking up all the information we could glean about sailing these tweaky and exciting boats. We measured, re-measured and Judith made sure the boat was faired, fettled and furnished with new sails so that the only variable was ourselves…
During the early part of Worlds Week, and only having done a few weekends of racing and training, we learnt a lot about sailing together under pressure in a very short space of time! Having two helms in the boat made for a challenging first few races with results getting worse throughout the day and not what we had hoped for.
Things improved on day two when Sophie came to the boat in crew mode, having identified that we both had our respective jobs and responsibilities in the boat, and our own strengths. Judith is great at starting, but after a previous OCS Sophie urged caution, however when in crew mode she left Judith to do her own thing and focussed on finding a lane to tack into.
After this our starts improved. Our strategy was not to get involved in the melee at the favoured end, but to come a bit more towards the middle of the line.  In large fleets with long lines, there is invariably a 'sag', where boats in the middle are no-where near the line and so, with a good transit or eye-sighting, you might feel exposed but you can make a good start on the line with free air.  This helped us get some great starts after which we just had to go the right way!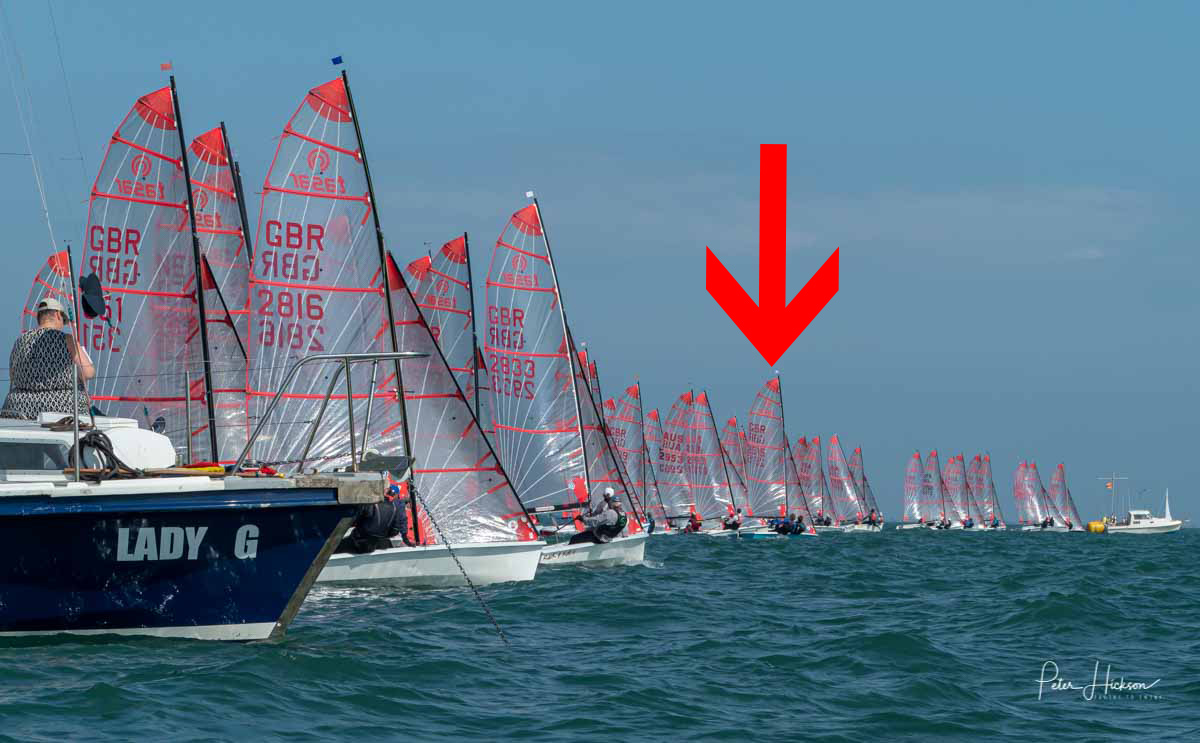 Photo courtesy of Peter Hickson
During the final race at the Worlds, the favoured side of the beat was to go left.  We did our normal starting routine but got squeezed out by the boat below and had to tack off meaning we were going right and not left.  Judith started getting a bit twitchy as there didn't seem to be a lane to take us left again – at this point she had to remember her job and let Sophie do hers – finding the lane.  Eventually, we did tack back although we were further to the right than we intended.  We stayed on that tack until the lay line to come back into the mark on port. Having dug ourselves out of an average start, we realised we were going to be first at the windward mark!  Looking back at the tracker later, we had a whole heap of luck because the lane we had found gave us a huge lift up towards the mark – that lift was our 'get out of jail' card.
From then on, it was game on and full concentration, remembering what we had learned during our practice and two-boat tuning sessions.  First up was the run which was our least favoured point of sailing.  One thing that we'd learned was not to sit right forwards by the shrouds but just a couple of inches further back.  It's tough when the whole fleet is covering you and trying to steal your wind but by doing this, we managed, just, to hang onto the lead by the leeward mark.
Up the next beat, we took a slight risk by going left and keeping going because we both thought it was the right thing to do.  The Aussies went right and we probably should have covered them but we were totally convinced we were doing the right thing, so having the courage of our own convictions was a bit of a break from the perceived wisdom.  However, it paid off and we had increased our lead by the second windward mark.
The first reach was a case of concentration on the sail trim and keeping the boat between the Aussies and the mark – if they went down, we went down; if they came up, so did we.  At the wing mark, looking back was the most amazing sight and one that will be forever imprinted on the memory with the whole fleet fanning out behind us.  We used similar tactics on the second reach which was more difficult due to punching a head-on tide and the Aussies closing the gap slightly, but again, we managed to concentrate hard enough with Sophie reminding Judith not to get distracted by the Aussies when they started talking to us!  We got to the leeward mark in pole position from where it was just a short fetch to the finish.  At that point we knew we had it in the bag unless a complete disaster befell us.  Thankfully it didn't and a huge 'Whoop' went up between us – we had done it!
So in summary, the important factors were:
1- Knowing and understanding your own role in the boat – let your crew/helm get on with their job!
2- Knowing your boat and what makes it go that fraction faster – marginal gains.
3- Concentration – sail and boat trim as well as keeping an eye on the bigger picture.
4 – A certain amount of luck – we decided the Gods of the red wine from the previous night were looking down on us that day!